Best Magna Tiles for Toddlers: See How They Stack Up
Magna Tiles are one of the best STEM toys for toddlers I've come across!
They have a ton of flexibility in how they work for little hands to stack and build. Parents love Magna Tiles because they are easy to pull out of the toy box and easy to clean up in a few minutes.
But what are the Magna Tiles for toddlers? In this article, I'll review the best ones I've found that my toddler loves. We'll also look into some alternative magnetic tiles for kids and compair them to the name-brand ones.
Best Magnetic Tiles for 2-Year-Old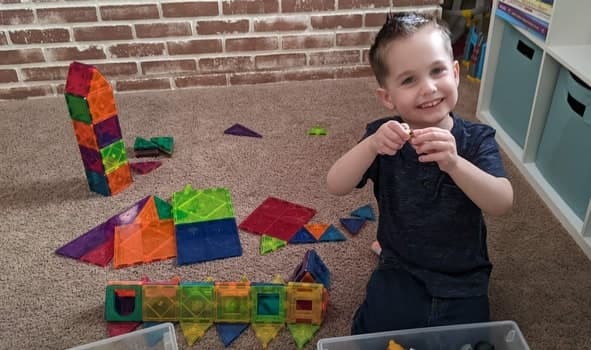 I have an excellent article comparing Magna Tiles vs. Picasso Tiles here. In this, I go over why I think Magna-Tiles (the name brand) are better, but I believe Picasso Tiles are a great alternative.
I like that Magna Tiles are more ridged and seem to be built better overall.
I know toddlers can be rough on their toys, so I wanted to make sure my little boy wasn't going to go full Hulk and try to break them. If he does, I'm happy to report that my toddler will struggle to break them.
Overall I'd say the best magnetic tile is Magna-Tiles. You can see if they are still available here.
Benefits of Magnet Tiles for Toddlers
I love when my kids can sit and play together without the TV on. I think it benefits my kids when they are engaged in a fun, educational activity that doesn't involve a screen. Having some no-screen time is fantastic for kids.
With MagnaTiles easy to pick up and play with nature, the kids can pull them out and start building in no time.
This is another benefit, magnet tiles take no set-up time.
Even better, a ton of them can be cleaned up in a few minutes. Clean-up is a breeze because they stack and stick together with their magnets. I have a dedicated bin for all our Magna Tiles, you can see if it's still available here as it's the best solution I've found.
Building Fine Motor Skills
One of the best ways of building your toddlers' fine motor skills is to have them grasp smaller items and set them in place. Magna-Tiles are great for this as they are attractive for little kids and just begging to be played with.
You can do this in a few ways with these Magna-Tiles.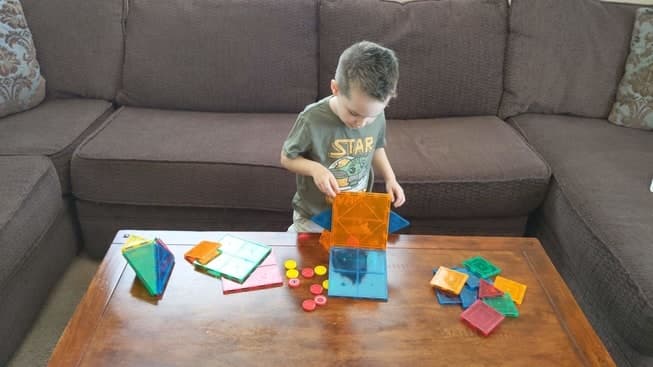 You can see in the picture I set up the magnets so my toddler can play a game that looks like connect four. He grabbed small plastic coins and dropped them down the top, so they slid out the bottom.
This was a fun game for him, and he's learning to use those fine motor skills.
Magna Tiles also makes a set specifically for toddlers and younger kids. You can find that set of Magna-Qubix here.
These are smaller tiles and blocks that are easier to grab and build with for little hands. They are a great supplement to any Magna-Tiles collection.
If you're looking for more toys that toddlers will enjoy, then check out our article, Take Apart Toys for Toddlers – Perfect Gift to Keep Them Occupied.
What Is the Best Age To Buy Magnetic Tiles
I have three kids, ages 3, 7, and 9. All of them play with magnetic tiles, heck, even I will sit down with them and see how high they will stack.
I say this because I've read different opinions. Some people say their kids outgrow them around the of six. This wasn't the case for me, as my oldest will play nicely with our three-year-old to build a house or a giant wall of magnetic tiles.
While I don't think your kids will outgrow them, I do believe if your kids are under two, they might not get much use.
Building can get frustrating for very small children. The tiles are only connected with magnets, so they don't lock in place like LEGOs.
If you're looking for a STEM toy that is great for a two-year-old, check out PicassoTiles 3D Building Blocks Tiles. They are shaped for little hands to grab and control. The blocks interlock instead of using magnets.
Have you ever looked into a subscription box for your toddler? It's an excellent way for them to have fun while learning. Everything is included and sent to your door every month. Check out my article on the best subscription boxes for toddlers here.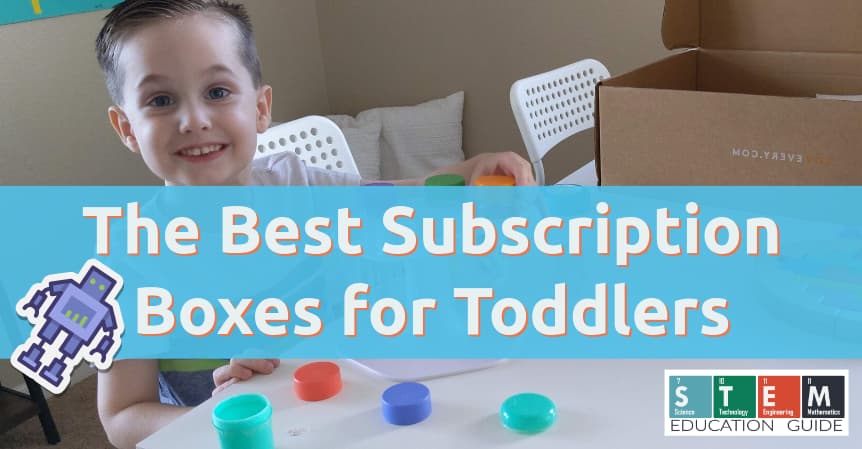 Are MagnaTiles Safe for Toddlers
Yes, they are!
The recommended age for Magna Tiles is three and up. If your kids are under three-year-old, they will need adult supervision when playing with MagnaTiles.
Magna Tiles are Food-grade ABS plastic construction offers ample strength and contains no latex, phthalates, or BPA for worry-free play.
This is great, but the main concern I had when my kids were gifted their first set was the magnet inside. I thought, what if the plastic tiles broke, and my kids might eat the magnet.
My kids were notorious for eating everything they found when they were babies. My youngest even ate a little LEGO person that thankfully passed.
Magnets are not something you want your toddler to eat. A single one can be dangerous, but a much greater danger exists when a magnet is swallowed along with another magnet (ACMT) or piece of metal.
This is why I tested a few different Magna Tiles to see how strong they were. You can see from my picture above that there was a little flex, but they didn't break with a lot of force.
So, for the most part, Magna Tiles are safe. If you are really concerned your toddler will be rough on them, I suggest playing magnets with them the first few times. This will give you a good chance at establishing how to take care of them and show your toddler they don't need to play rough.
We all know toddlers can be rough on their toys, and somethings your tiles will get dirty beyond a small wipe-up. Please take a look at our article, How to Clean Magna-Tiles without damaging them.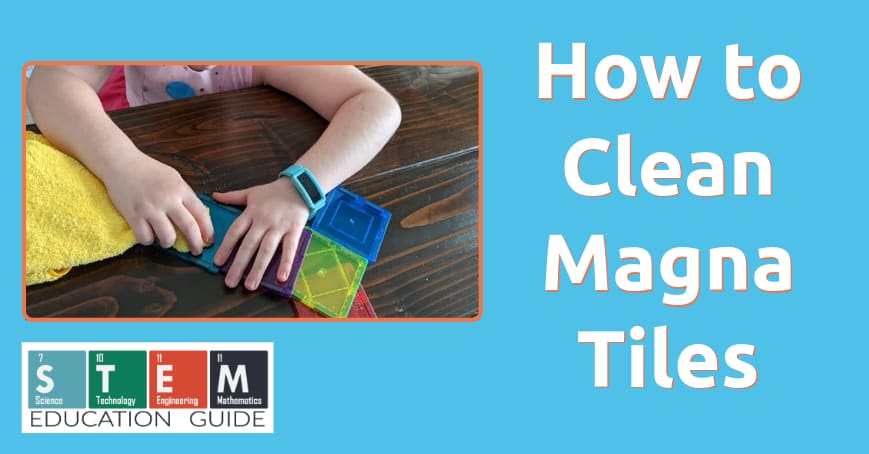 Best Magna Tile Sets for Toddlers
They have a few different sets available, along with the base set. The base set has 100 pieces, so your toddler will be able to build just about anything. The other sets in this list have a theme or the ability to create different structures.
Magna-Tiles Metropolis Set
This set is for smaller hands, perfect for a two or three-year-old, along with the magnet cars that have little wheels on them so your kids can build a track to push along.
On the box, it shows some different ideas to build, but no instructions are included. I see this as a plus. There are no instructions and no screens – just pure creativity!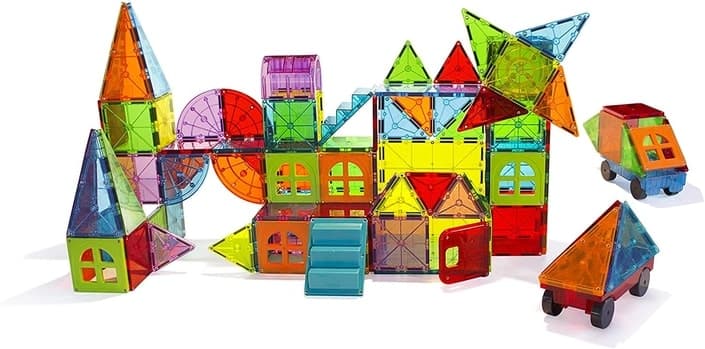 You can find the Magna-Tiles Metropolis Set here.
Magna-Tiles Glow In The Dark Set
What kid doesn't like glow-in-the-dark STEM toys?
While this is a smaller set, and I think it should be added to the base Magna Tiles, it does exactly what it looks like, tiles that glow in the dark.
I like that the set has a small LED flashlight to charge the tiles. Your toddler can also charge them in the sunlight and move them to a dark room for extra effect.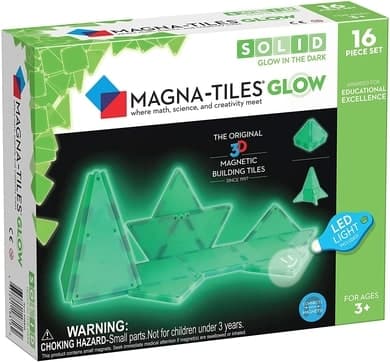 You can see if this set is still available here.
Magna-Tiles Builder Set
A fantastic set of magnetic tiles for the toddler that will be a future engineer.
I think this is one of the best sets as toddlers can move tiles up and down with the crane. This will fully emerge them in the building process.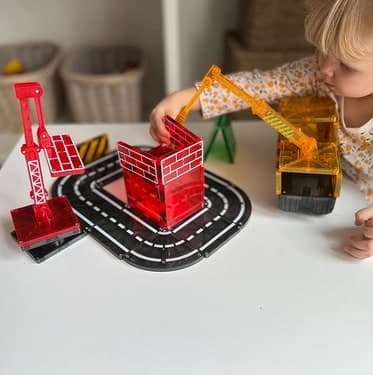 You can find the Magna-Tiles Builder set here.
Wrapping Up
Magna-Tiles are the perfect STEM toy for toddlers because they encourage screen-free learning and creativity. These STEM toys also help with dexterity and hand-eye coordination. My kids, including my toddler, have loved playing with them daily.
Make sure to take a look at our article, Toys for Mechanically Inclined Toddlers. In this, I find the best toys for toddlers who love building and creating.